Sergeant, 72nd Duke of Albany's Highlanders, Afghanistan .
Esta figura es la de un sargento de la 72 ª Highlanders, sirviendo en la 2 ª Guerra afgana de 1878-1880. La mayor parte de esta cifra ha sido fabricada, y la parte más difícil fue crear el patrón de tartán del pantalón. Lo logré pintados a mano cuidado con lápices y pinceles ... pero yo espero no tener que hacerlo de nuevo!
La 72a jugado un papel importante en la campaña final que puso fin a la guerra, sobre todo en la batalla de Kandahar.
***************************************************
This is the last of my 2nd Afghan War figures, inspired in this case by a superb Pierre Turner plate , a contemporary photo, and a sketch done by a Sergeant of men skirmishing.
The 72nd's role in the 2nd Afghan War was solid , but for me the main interest in the figure is in the irresisitible visual combination of khaki and tartan .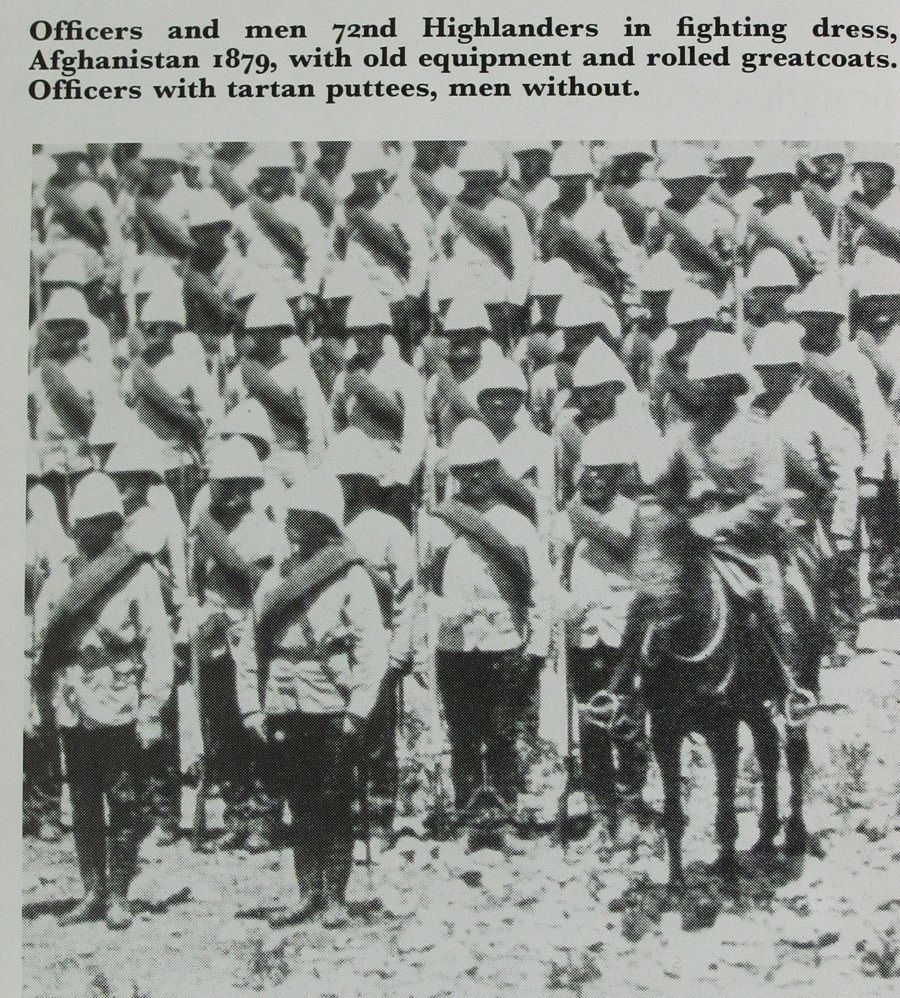 So I shall talk mostly about making him.
The helmet is one of my castings, the Martini-Henry rifle likewise. The sword bayonet is the DML yataghan version ( Sergeants only, the ORs had the long socket type ), the boots from Did .
Head is my no.76, with a beard a fake fur from a soft toy .
Everything else was new made , including those trousers… which was a problem from the outset. Finding scale tartans has always proved impossible, and those of us wanting to make Highland figures have to be creative.
I investigated printing first , but in the end decided I could get there quicker by painting the pattern by hand. First I got a scan of Prince Charles Edward Stuart off the web , then scaled it to 1/6th and printed.
Select brushed cotton , wet, lay flat on large tile and paint with thin red paint with housebrush. Repeat .We now have completely flat and smooth piece of red cloth.
Carefull measure out pattern units and draw scale grid on two sides,draw everything out carefully with coloured chalk . Start painting with the coloured squares, then the lines , done with a paint pen( Faber-Castell Pitt ), then reinforce the colour with brushed paint.
This sort of painting project can be overcome with careful preparation , and some patience : don't rush it .
Peel cloth from tile,then tailor trousers very carefully to make the pattern match exactly all round .
They are cut with a seam ONLY on the inside leg , which has long been standard practice , to avoid spoiling the pattern . In some pics they wear tartan puttees as well, but after making those trousers I had had enough !
The jacket is khaki drill , from an old pair of trousers . He has a checked shirt on underneath , and the greatcoat is worn rolled . The pouch and waist belts are pipeclayed buff, the locket buckle one of my brass castings with applied etched brass " 72" . The black leather main pouch has a tin box inside.
By this date most troops had the 1871 valise equipment, but the 72nd had been in India for some years and were still using the old kit. When parading ,Sergeants carried their weapons in the right hand , at the "Advance", as in the next pic:~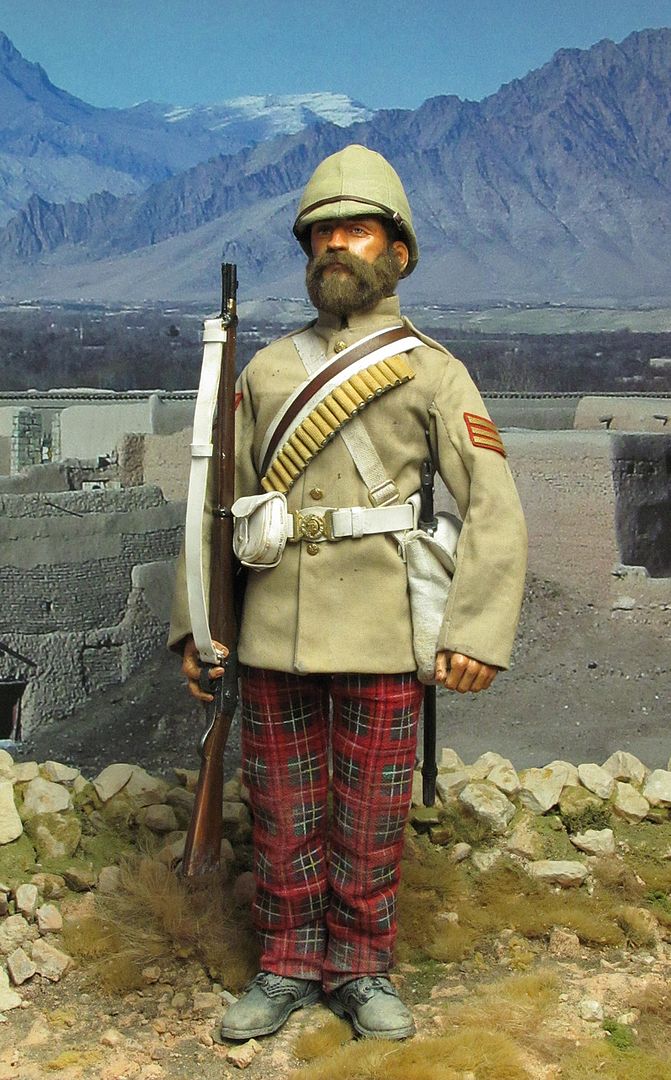 The original Turner plate shows this bandolier arrangement , with rounds hanging in a canvas set of tubes across the chest.
I made the first version exactly like this ( as above ), but I was a little baffled , wondering it if it represented tubes sewn to the jacket ( as used later ), and searched the sources to see where this idea had come from, because you would have difficulty undoing the jacket. .
The battalion photo shows no such thing , so I presume it came ultimately from this sketch , done at the time by the Sergeant at the left of the drawing, and has been variously misrepresented by artists since, including I think Turner :~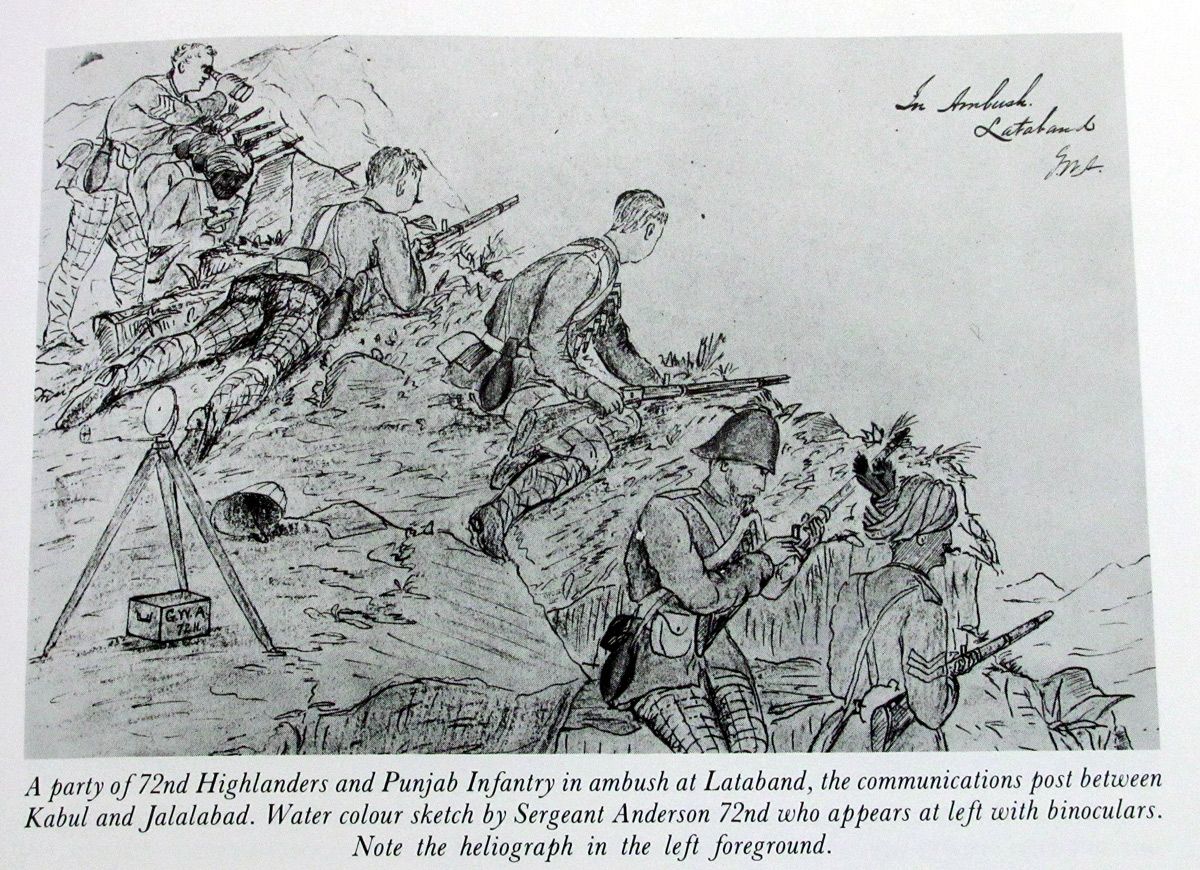 If you look you can see that the rounds dangle, individually ; so they must be in individual loops, sewn to the inside of the pouchbelt, not in loops sewn Cossack-fashion to the jacket.
So I turned a Martini .45/577 round on my lathe, cast off some , and made up what I think it must have looked like.
Given that they don't appear in the big Battalion photo, we must presume that they were a local modification done perhaps by one or two companies.
The 72nd also had a plain blue Glengarry.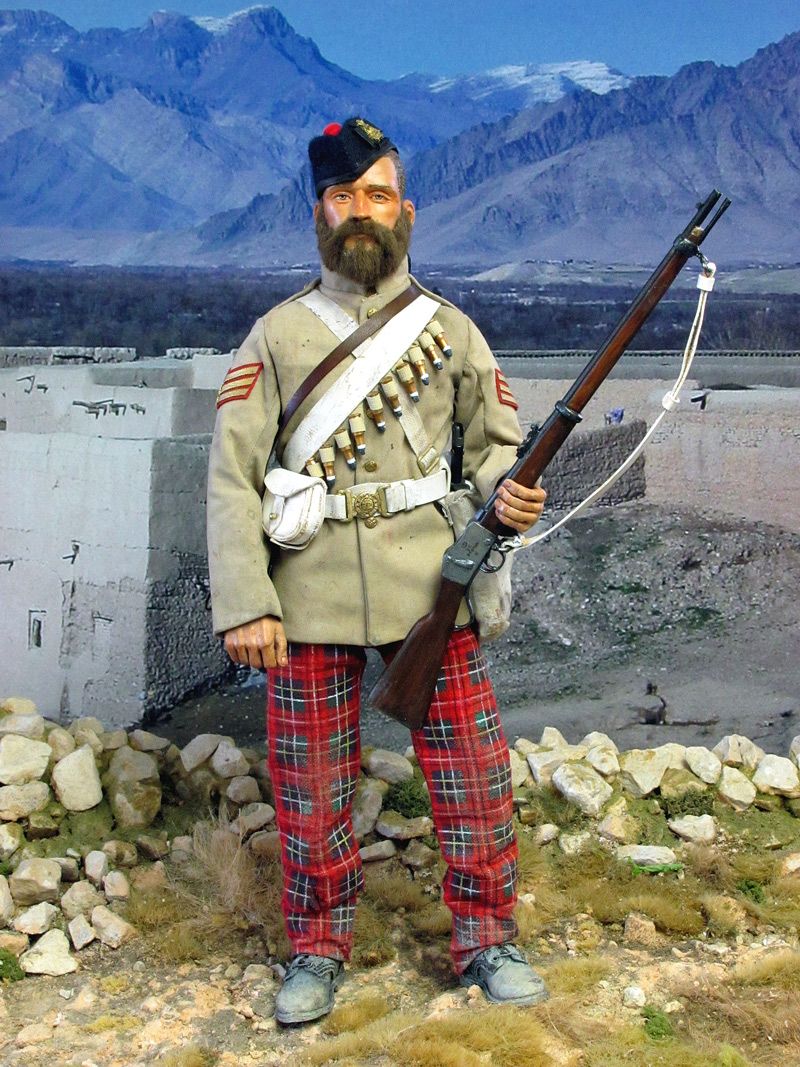 After the War , they were amalgamated under the Cardwell reforms of 1881 with the 78th into the Seaforth Highlanders .
Thanks to Allan Webster for the splendid backdrop photo .
*************************************************************