British Officer on the Somme.
..
oficial británico durante la ofensiva del Somme julio de 1916.. Oficiales compraron sus uniformes y equipo de una medida aprobada, así que había un poco de elección, sobre todo en el equipo que escogieron para llevar en combate. He tratado de mostrar un traje típico.
La túnica es una modificación del DiD "John Colman", y todo lo demás está hecho por mí.
When I first started getting serious about 1/6th , building an accurate Great War figure was hard. There were the Sideshow figures , but most of the parts were poorly cast in PVC .The uniforms could be worked on , but other items had to be made , converted , or got from elsewhere. Things have got better since then , with the arrival some years ago of Albert Brown and the other nations' figures from DiD. As always with DiD, there are caveats , but he's an excellent basis for making an improved figure, without having to go through the serious business of making the 1908 webbing from scratch.
What with my major rebuilds of Sideshow, and more recently DiD, I now have quite a collection of ordinary Tommies.
An Officer , however, has been quite a challenge, since there's not much available to get you started . The DiD John Colman figure is about all we have. He's not wildly accurate for 1940, but actually quite a good fit for 1914 / 18 .
Officer's uniforms were privately purchased, so there was some variation . That particularly applies to making field equipment, since the trend was from the official leather Sam Browne items in 1914, to more webbing as the war went on, either in the form of OR's webbing modified for officers, or the new Mills set for officers, which emerges in 1916/17 . This figure has the Sam Browne type, partly because I wanted him to be able to double for early war .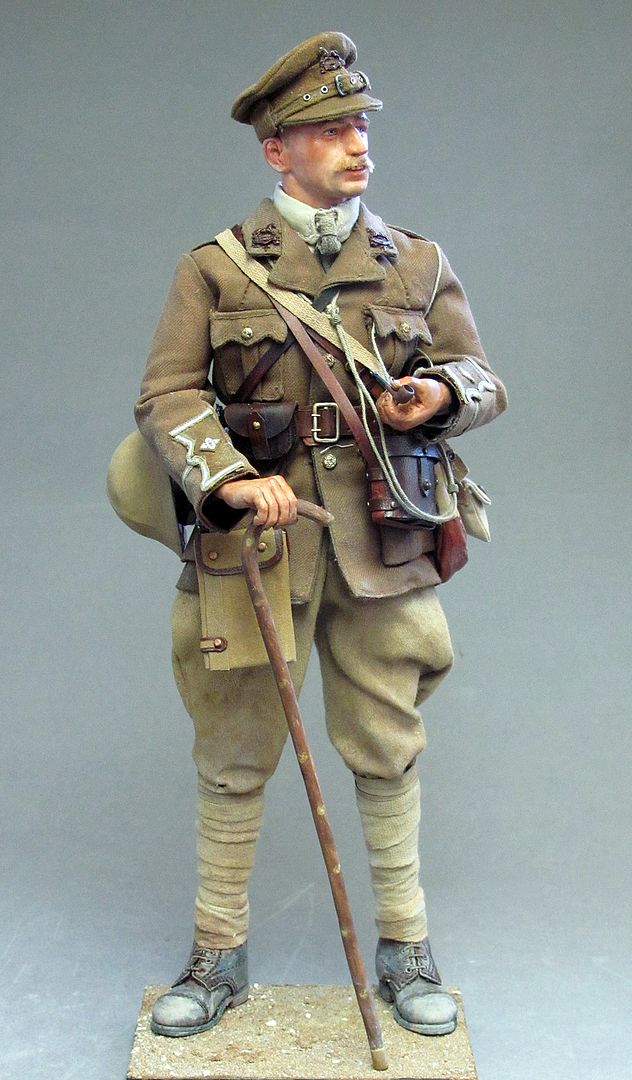 I wanted my officer to show the full field kit worn when making an attack, which is uncommon in photos.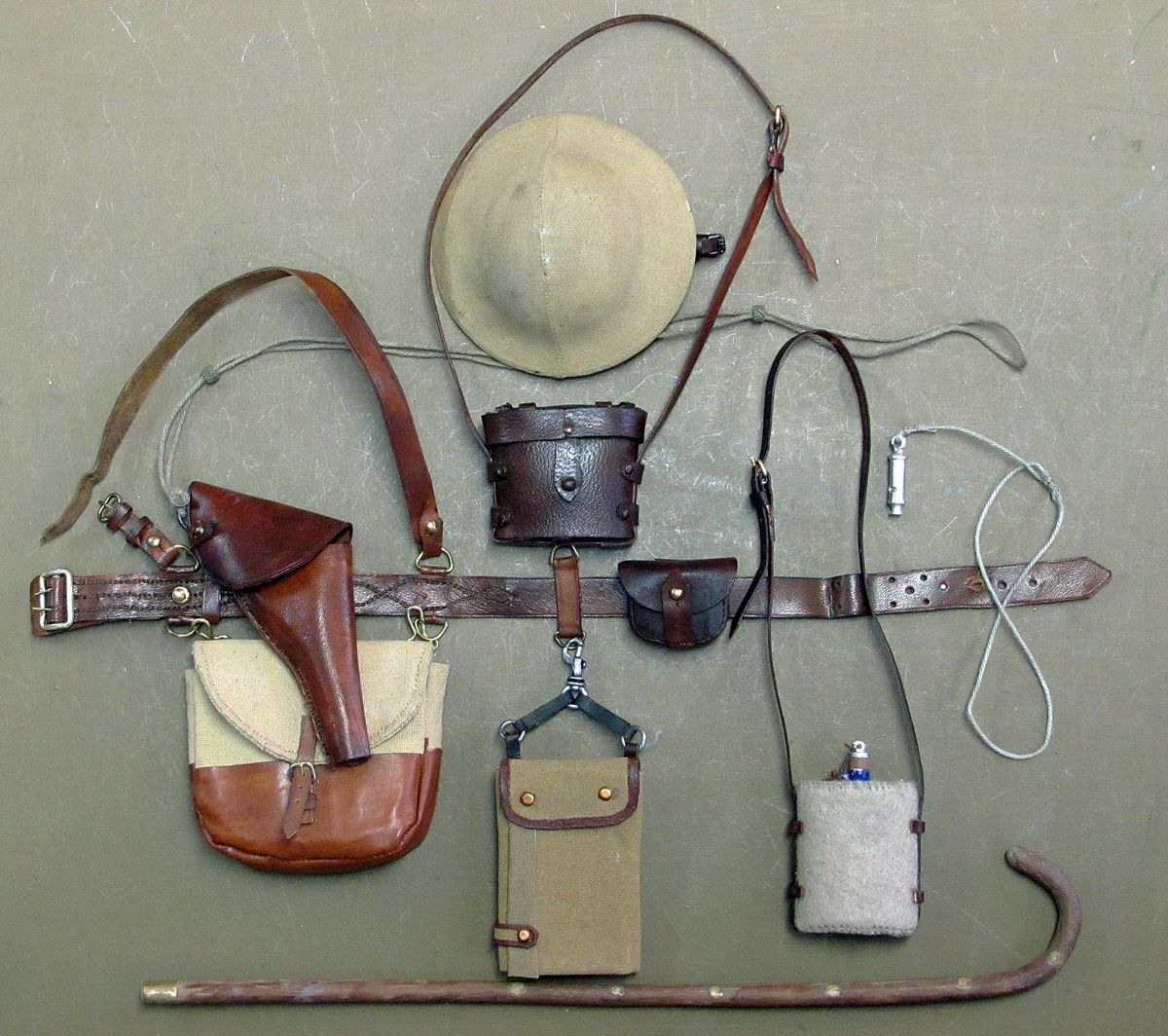 The jacket can be the starting point .
The cuffs need retailoring ( unpick cuff , remove shaped cuff piece, and recut as scalloped flap ), add cuff lace ( painted "lacet" ) and rank pips, in this case 2nd Lieutenant ( painted cloth ) , and he needs a pair of collar dogs. Shoulder ranking is also possible , since in many Regiments it became the norm for the junior officers. That was part of the trend to make the officers less conspicuous , which included them wearing ORs jackets and webbing and carrying rifles.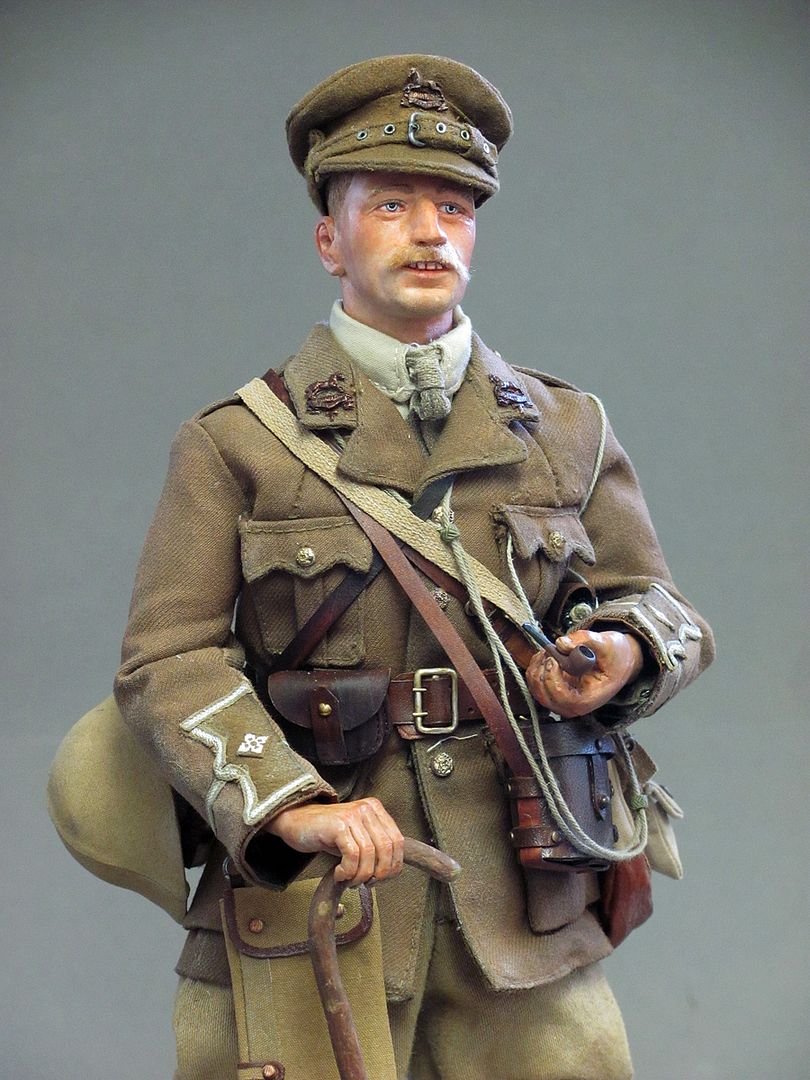 It was not universal , however .
Breeches are retailored : they varied from scarcely flared, to extremely so; and in colour from drab to a buff so pale it's almost white. Gaiters, trench boots, or puttees, with puttees commoner amongst junior Infantry officers.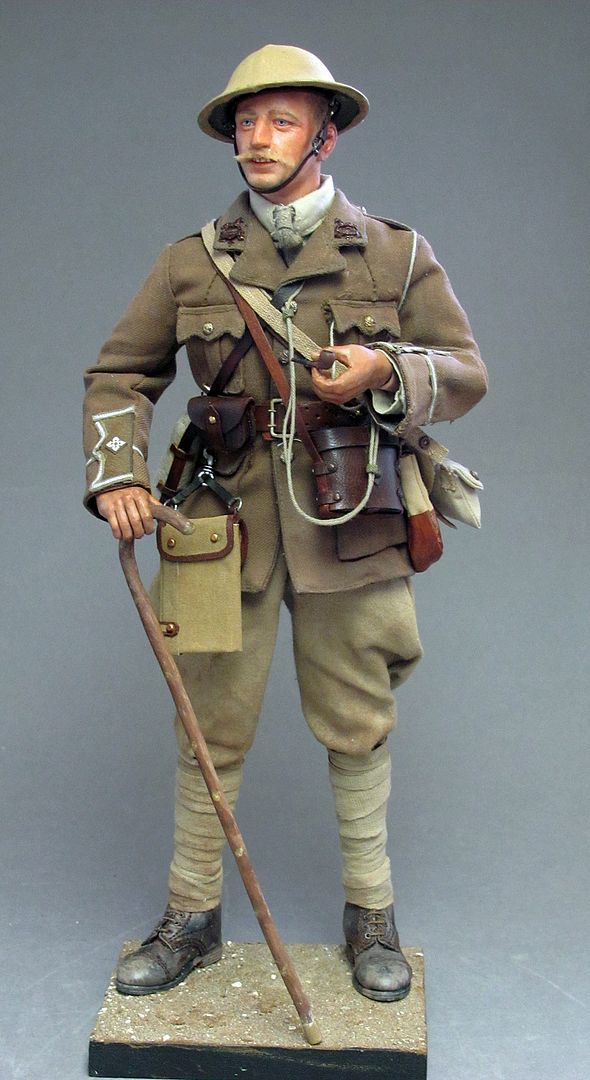 Detailed sourcing ...
Cap : Onesixthunique Officer's trench cap.
Helmet : TB Brodie casting, with custom cover and liner as private purchase helmet.
Shirt : DML. Tie made from cotton tape.
Jacket : DiD Colman,cuff lace from 2mm lacet painted, insignia specially sculpted, new buttons .
Breeches : custom from a sort of miniature whipcord fabric.
Puttees : woven tape painted, to represent Fox's puttees, the usual officers' purchased type.
Boots : DiD Colman
Now in the trench setup:
Binocular case is DML repainted, new strap.
Sam Browne custom in leather, brass fittings from TB.
Haversack , pistol case containing TB metal Webley MkV, map case, waterbottle , stick etc, all custom, made from cotton, leather, brass wire etc.
The whistle and pistol lanyards made from model ship rigging cord. The gas hood case from cotton and tape, DML buttons.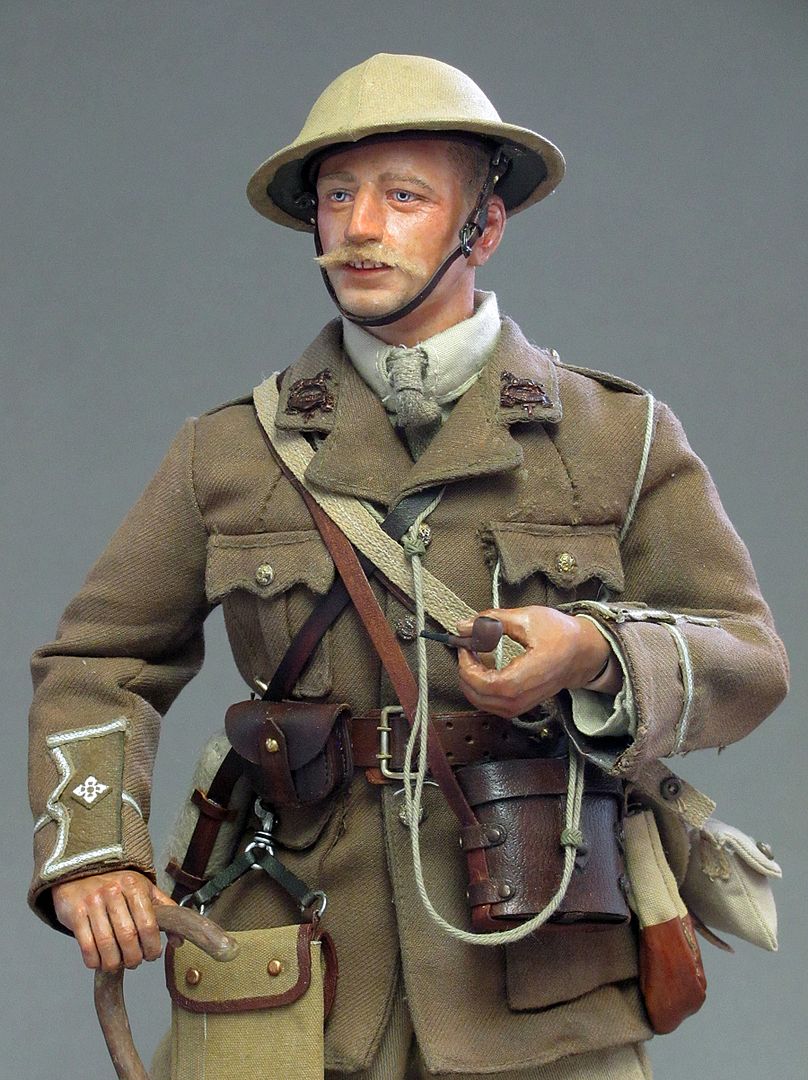 *************************************************************************************[/quote]